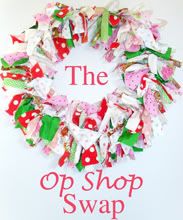 I've never been involved in a swap before, but here I am doing my first swap and I'm excited about it. I'm happy to have Charlotte at The Hours Between (
Click here to see her blog
) as my swap partner and am looking forward to putting together my parcel to send off to her over the next 2 weeks.
Most of all I'm looking forward to the challenge of the swap (click
here
for the details of the swap), which in part involves op shopping. I don't know about you, but I love op shopping.
When my children were little I used to love going to the op shops to find clothes for them. I found some awesome bargains. It's nice to have new clothes for your children, but when they are little they go through so many every day clothes, with changes etc., that it isn't practical to put them in good stuff all the time. So the op shop was the perfect place to go shopping for clothes. I used to love buying those little all-in-one bonds suits from the op shop and they were a fraction of the cost of the brand new ones, especially if I frequented the right op shops in the right areas.
I had my favourite op shops that had the best things .... shoes, socks, singlets, shirts pants. Some were practically brand new and it was obvious that they had belonged to another little person who had outgrown them. By the same token when my littlest grew out of some of her clothes, if they were still in relatively good condition I'd donate them to the op shop or pass them on to another mother. Op Shops saved me a lot of money when my children were little and helped ease the financial burden and I just wanted to do the same for others by giving back.
So now to the task at hand .... I'm off to go shopping around the area to pick up something nice for my swap partner.
Looking forward to putting up pics of my swap parcel when it comes and also of the things I put together in my parcel for my swap partner, oh but only when she has the parcel.